The construction took a week, but the first harbingers could already be seen. The new sign for the Old School in Quohren. This turned into the "Scary School" in October, which was quite visible through the new illuminated sign with lots of effects.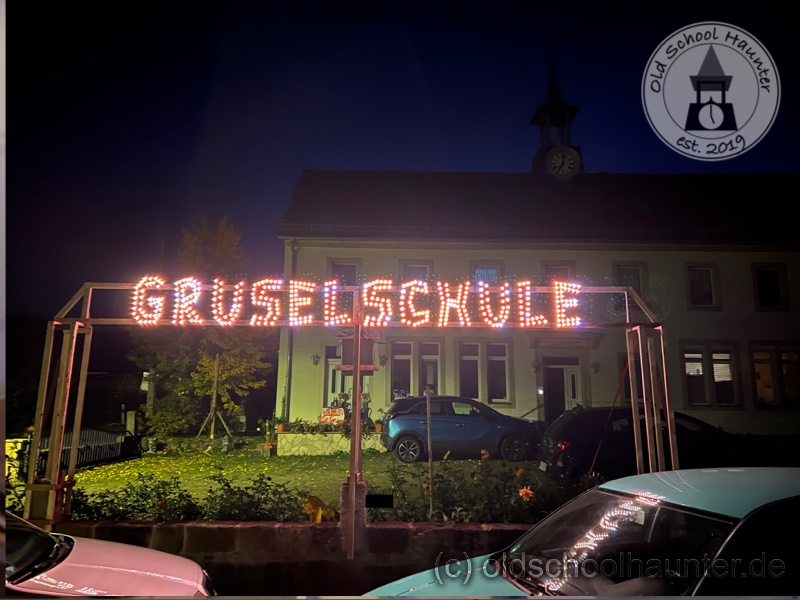 Many passers-by walked by, asked curious questions and also fence guests were present the one or other time during the set-up. That alone is always a great incentive to set things up for Halloween.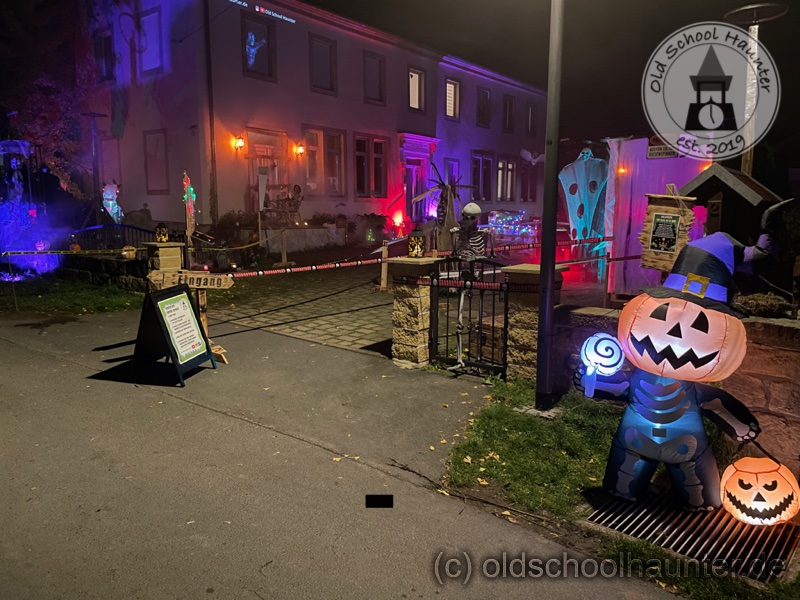 This year I had something new in mind again, but it was definitely going to be a walkabout again. This idea was born Halloween 2021 due to the Covid 19 Protection Ordinance, but it turned out to be a very good concept. At the entrance, visitors were greeted by our new pumpkin man before entering the entrance. There waiting first our monsters in the box and opposite our new scary tree.
Once they had dared to pass by, everyone was faced with the challenge of walking through the new spider passage. This was covered with spider webs, big and small spiders, fakes and fog. For the brave ones there was a separate room at the spider's passage. This was completely dark and if who dared to go in, was greeted by our jumping spiders. I was surprised how many didn't dare to go in there. But even though this room was already scary, some children found it fun. They then proudly told how they dared to visit the giant spider.
After the spider hallway, things quieted down and the converted zombie pit with the wiggly legs, as well as the funny singing pumpkins, invited them to linger a bit. Then came the witch's corner with the newly built witch's cauldron including animated giant spider in it. On the former loading ramp, a skeleton couple had gathered for a creepy dinner, which took place right next to the cemetery. This was also completely transformed and with the fog effect from the ground as well as the many grave lights, this made for a nice eerie atmosphere.
At the exit, there was still a prisoner sitting in his cage, who kept shaking the bars and surely wanted to get out again. In the garage, at the house front and at the tower clock projections were running again, which brought "life" into the superstructures.
Night Time Walkthrough
After the visitors, I picked up my camera once again and took a tour of the Scary School courtyard. You can see the video of Haunted School Halloween 2022 on the Old School Haunter YouTube channel.