Halloween at the Old School
In a normal case, the Old School in Quohren is a normal house. There is a special history, but it is a normal house. But since 2018, the Old School has been transformed into a place of ghosts, witches, goblins and creepiness at the end of October.
Thick fog and strange noises drift across the otherwise quiet courtyard. Zombies, ghosts and skeletons are up to their mischief and give goosebumps to all who dare to enter the yard.
The host on the evening of October 31 is Team Old School Haunter, who will transform the Old School into the Halloween School. And for those who want to know how it all works, here's the inside scoop on the details.
Translated with www.DeepL.com/Translator (free version)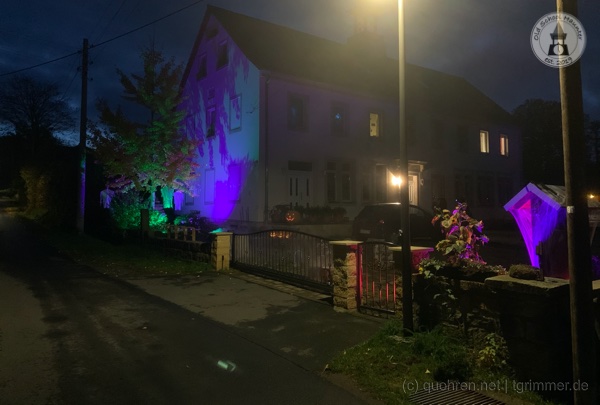 The Tradition
Halloween or Hallowe'en (a contraction of "All Hallows' evening"), also known as Allhalloween, All Hallows' Eve, or All Saints' Eve, is a celebration observed in many countries on 31 October, the eve of the Western Christian feast of All Hallows' Day. It begins the observance of Allhallowtide, the time in the liturgical year dedicated to remembering the dead, including saints (hallows), martyrs, and all the faithful departed. [Source Wikipedia]
At least that's the official definition according to Wikipedia. But yes, Halloween originally comes from Europe and not ,as many think, from the USA. However, the USA make it known very well. Especially children then dressed up through the streets in search of candy. But adults don't miss out on the fun either.
These so-called "trick-or-treaters" come dressed up with funny sayings to grab the sweet. This is the "treat." If one does not give in to this, they play a trick, the "trick". All in all, fun for young and old.
It gets really interesting when the "Home Haunts" come into play. These are the houses and properties decorated for Halloween. In the U.S., it doesn't just stop at decorating in the classic sense. Entire driveways, garages and gardens are transformed into spooky cabinets. Many of them are aimed at children. But some are (or should be) only accessible for adults. In Germany, you would say "Free for P18".