The idea for the Prisoner of Scary School came to me when I saw a Halloween animatronic from Spirit Halloween in the US. This one is called Barry and is a zombie that sits in a cage, makes loud noises and rattles the cage. Now Spirit Halloween unfortunately has the disadvantage that they do not ship to the EU. So I picked up the idea and started the DIY project "Animated Prisoner".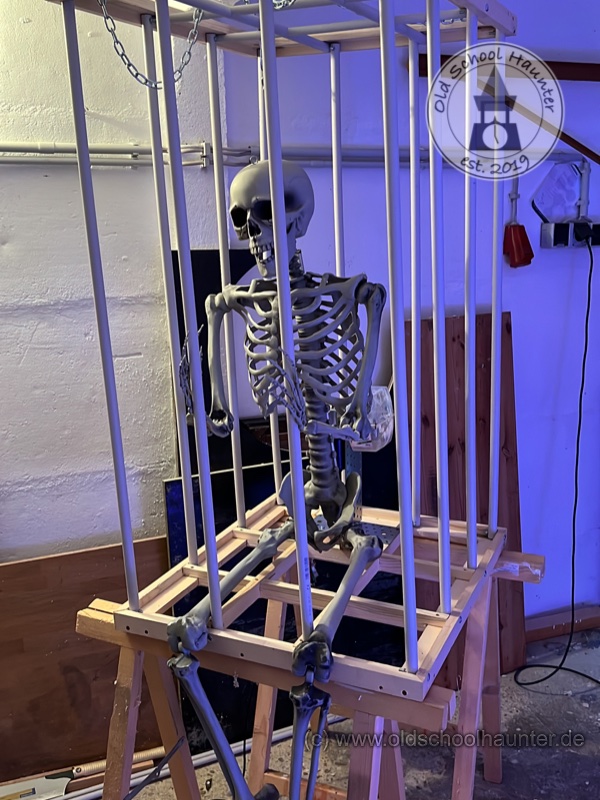 And so the work on the project started. The cage itself is a combination of a wooden frame on the top and bottom, and the bars are tubes that you would normally use to install the electrics. The skeleton was purchased cheaply at Woolworth's, where the 1.60 tall Variant was available for only 35 Euros this year. A bargain compared to the prices on the Internet, where sometimes up to 90 euros to book.
The drive is also in this case a self-construction. Consisting of a wiper motor and a PWM controller to control the speed. The Animatronic is driven with 12 volts and so I don't have to pull a 220V cable to the cage.
Watch the video on YouTube
The first part of the video series "Animated Prisoner" is available on the YouTube channel of Old School Haunter.
This could be interesting
The Scary School Prisoner (Part 2)