What would Halloween be without spooky atmosphere and effects? From my point of view, only half as spectacular. I also rely on small decorative elements to scare people or to set accents.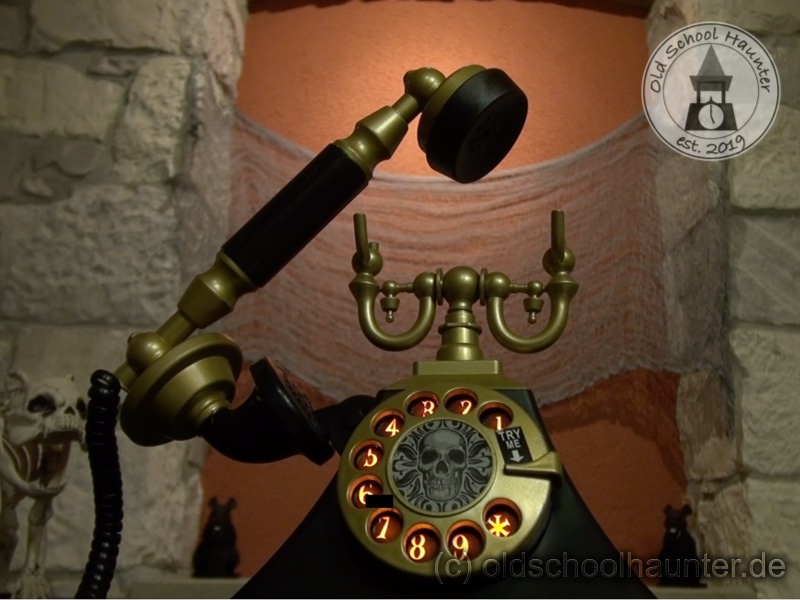 For this reason, I got myself a vintage ghost phone and I took a look at it for you. If you have been thinking about buying such a phone for a long time, then this review will be interesting for you.
I don't want to read
If you rather want to watch my review then read, you can checkout my YouTube channel OldSchoolHaunter.
Spooky Vintage Pphone
We are dealing here with an antique phone that is haunted and from which ghostly voices sound.
The material is plastic and the weight is 725g according to the manufacturer. So not too heavy.
You'll find the colors black and gold on the case and the handset itself. The numbers under the dial are white and have a brownish background. The dimensions are about 25 x 13 x 20 cm.
The dial itself is gold and the numbers behind the dial are white. These numbers then glow in a reddish color, when the phone is activated. You have the motion sensor in the front above the dial, which is used by many animatronics. But this is only one way to activate the phone. The second option is to press the dial.
An external Try-Me button cannot be connected and there is no way to control the volume. The connection for an external Try-Me-Button would be interesting. That way I could connect a step mat in a simple way. Because depending on where the phone is placed in the decoration, the motion sensor may work very well.
Since the phone is an animatronic we need power to run it. For the power supply 3 AA batteries are needed. In my case, the batteries were included. The battery compartment can be found on the bottom.
Distances are always interesting, when the phone is activated the by the built-in motion detector. For this reason, I measured distances and was still able to trigger the phone from a distance of 2m. I cannot tell you, whether the motion sensor always works so reliable at this point. The activation works very reliably close up (20-30 cm).
Where did I order the phone?
I bought the phone in 2022 at Horror-Shop. The link takes you directly to the product and is not sponsored, nor do I get a commission if you use the link here.
Curious about more? Then take a look at the overview 🙂